All 650 branches of IPPB to be launched by April: Sinha
Wednesday, January 3, 2018, 4:26 PM
The government expects to roll out all 650 branches of India Post Payments Bank (IPPB) by April 2018, Parliament was informed today. Minister of State for Communication Manoj Sinha said IPPB has launched 2 pilot branches on January 30, 2017, at Raipur (Chhattisgarh) and Ranchi (Jharkhand) in 2016-17. However, no branch was rolled out in the current financial year, Sinha said.
3 pvt banks can sell more small savings schemes
Tuesday, October 17, 2017, 10:29 AM
To ensure that it meets its budgeted collections under the small savings schemes, the government has allowed three private sector banks — ICICI Bank, HDFC Bank and Axis Bank — along with all the public sector banks to accept deposits under schemes like the National Savings Certificate (NSC), Kisan Vikash Patra (KVP) and Monthly Income Scheme (MIS), among others.
Learn to Save, Spend, Invest & Borrow Wisely with our Youtube Channel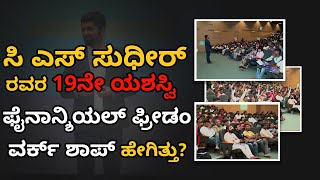 ಸಿ ಎಸ್ ಸುಧೀರ್ ರವರ 19ನೇ ಯಶಸ್ವಿ ಫೈನಾನ್ಶಿಯಲ್ ಫ್ರೀಡಂ ವರ್ಕ್ ಶಾಪ್ ಹೇಗಿತ್ತು?
1 Year Ago
Start your Journey to Become Rich with IndianMoney's Financial Freedom App, Download here Android - https://play.google.com/store/apps/details?id=com.wealthdoctor IOS - https://apps.apple.com/in/app/indianmoney-com/id1445018395 The Financial Freedom Workshop is an initiative by IndianMoney.com which aims at helping individuals build financial independence for them and their families. This workshop is conducted by Mr. C S Sudheer the founder and CEO of Indianmoney.com. People attending the workshop will identify money values to make wise financial decisions. Also, participants of the workshop will be eligible for a 1-year membership to the Financial Freedom Club of IndianMoney.com. Watch this video to hear the feedback by people who have attended the workshop.
Step 3: Take up the matter with a higher authority
Tuesday, June 12, 2018, 7:39 PM
If the issue is not resolved even after calling customer care and visiting the bank branch, you must take this to the next-level. Inform the branch manager of the bank where you have an account. Banks will also have a grievance cell to resolve customers issues. You can lodge the complaint on the bank's website and grievance cell will take care of the matter.
Smart Savers: #5 National Savings Certificates
Thursday, April 6, 2017, 9:44 AM
National Savings Certificates is an Indian Government Savings Bond, primarily used for small savings and income tax saving investments in India. The maturity date for these certificates is set to 5 or 10 years from the date of purchase, but the interest is calculated on yearly basis. This interest will not be paid to the certificate holder till such time as the investment matures.
Smart Savers: #2 Post Office Monthly Income Scheme Account
Monday, April 3, 2017, 7:36 AM
It is a six-year savings scheme offered by designated post offices. It offers guaranteed monthly returns on deposits. The account can be opened singly or jointly, with a minimum investment of Rs 1,500. The maximum is capped at Rs 4.5 lakh if the account is held singly and at Rs 9 lakh, if jointly. One can open multiple accounts, but overall limits stay.
Get FREE Credit Score now!
Attention!
This is to inform that Suvision Holdings Pvt Ltd ("IndianMoney.com") do not charge any fees/security deposit/advances towards outsourcing any of its activities. All stake holders are cautioned against any such fraud.